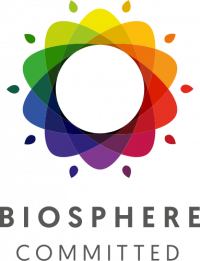 Welcome to "Casas das Arribas"!
Located in the charming Cardal do Douro, in Bemposta, we are pleased to share our commitment to sustainability and environmental preservation. Here, we embrace eco-friendly practices to ensure a harmonious balance between nature and hospitality.
We value local and responsible purchasing, striving to support local producers and promote the region's products. We believe that this practice not only benefits the local economy, but also contributes to the preservation of the traditions and authentic flavors of our region.
In addition, we have implemented rainwater harvesting systems, ensuring that every drop of rainwater is used responsibly. This reduces water consumption and contributes to the conservation of this valuable resource.
For the water heating, we opted for the use of renewable energy, taking advantage of the abundant solar energy available in the region. In this way we are able to provide comfort to our guests while maintaining our commitment to sustainability.
We are committed to informing and promoting sustainability practices to our guests. We provide detailed information about the measures we take, from efficient energy and waste management to promoting recycling and reducing the use of plastic.
Here at Casas das Arribas, we believe that it is possible to enjoy a comfortable and luxurious stay while respecting and protecting the environment. We value the nature that surrounds us and encourage our guests to explore and enjoy the natural beauty that the International Douro Natural Park offers.
By staying with us, you will have the opportunity to live authentic experiences, supporting sustainable practices and discovering the perfect balance between comfort and environmental responsibility.
Come be part of this journey and enjoy the natural beauty of the Cardal do Douro in Bemposta. Book your stay now and join us in this quest for sustainability and preservation of our environment.
Sustainable greetings,
The team at Casas das Arribas
Certification: Biosphere Commited Portugal